#doppa2020 is proud to welcome Briozing as our sponsor. BrioZing specializes in the area of advanced DevOps, Product Development and Test Automation.
About Briozing
BrioZing is a lean & agile company that helps enterprises and emerging startups to Build, Deploy, Test & Scale business-critical solutions. Engineers at heart, BrioZing team put out heads together to solve any business problems using code.
What Briozing has achieved so far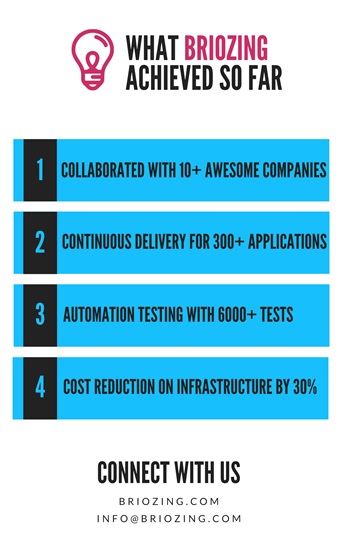 BrioZing provides specialized and tailor-made solutions as per your organizational needs in the areas highlighted below:
Advanced DevOps
Continuous Software Delivery
Continuous Monitoring and Alerting
Migrating from data centers to various clouds
Custom made CI/CD pipelines. Agnostic of cloud providers
Infrastructure cost optimization
On-demand Infrastructure spin up
Hybrid Cloud solutions
Product Development
Java, NodeJs, ReactJs, Python expertise
Breaking monolith to micro-services to handle scale
Test Automation
Automated API testing
Automated Mobile Apps & Browser testing
Setting up in-house mobile device labs
Integrate with cloud device labs
Continuous Testing ecosystem for Production Monitoring
#doppa2020 which is one of the largest #DevOps virtual summit is proud to get associated with such a wonderful organization, led by extremely technical and smart experts. We are sure that their services will come in handy by all the organizations who want to venture into uncharted #DevOps territories or for all those organizations who want to get their #DevOps journey back on track.
If you want to support #doppa2020 as a sponsor, please do get in touch with us.